Ferenc Mikulás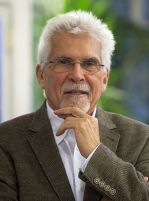 He was born in 1940.
Since 1971 he has been the Head of the Kecskemét Animation Studio.
Several series and short films were produced on the base of his idea, e.g. "
Hungarian Folk Tales
", "Legends from the Hungarian History", "Tales of King Matthias", "100 Years Ago", "Tale about the Miraculous Deer", "Fotolife", "Souvenir" etc.
Since 1993 he has been the Director of the Kecskemét Animation Film Festival.
Between 1997-2000 he was a member of the Board of Directors of ASIFA (Association of International Animation Film Artists).
He was member of jury at several festivals in the world, such as Chiavari (Italy), Seoul (South-Korea), Ankara (Turkey), Beijing (China), Łód
ź
(Poland), Târgu Mures (Romania), Stuttgart (Germany) and Jaipur (India), Lisbon (Portugal), Hiroshima (Japan), Bratislava (Slovakia), Banff (Canada), International EMMY Awards (USA), Espinho (Portugal), Tehran (Iran) and Córdoba (Argentína).
For his activities he received the Golden Cross of Merit of the Republic of Hungary in 1996.
In 2004 he was awarded at Chiavari International Animation Film Festival by "Max Massimino Garniér" award for his more than 30 years long work he made in the interest of the Hungarian and international animation culture as the director of Kecskemétfilm Ltd. and Kecskemét Animation Film Festival.
Awarded with Béla Balázs Prize in 2008.
In the same year he won the Prima Award of Bács-Kiskun County.
In November 2011 he was honored with President's Medal of Merit by the President of the Republic of Hungary.
In December 2011 Kecskemétfilm received Hungarian Heritage Award at Hungarian Academy of Sciences.
In 2015 he received the Honorary Citizen of the City of Kecskemét title.
In 2016 he was awarded with Raoul Wallenberg Award in the Holocaust Memorial Center of Budapest for starting the animated tv-series titled "Gypsy Tales".
At present he is the Managing Director of Kecskemétfilm Ltd., the Producer of the films made in this studio and the Director of the
Kecskemét Animation Film Festival.